Our Technologies
The materials used are of absolute quality. The choice of fabrics and padding of the coverings and covers as well as the choice of the materials of the structures play a fundamental role in guaranteeing the quality and functionality of the mattresses. The materials used are selected in order to guarantee low environmental impact and recyclability at the end of the product's life cycle.
BIO-based polymers
Aquacell BIO-based polymers is the innovative and original type of breathable open cell "water based" filling, which uses exclusive polymers largely derived from essential oils of vegetable origin as opposed to fossil origin (oil, coal, oil shale, etc). The exclusive and patented Aquacell polymer molecule expands, by means of an exclusive production process (foaming) in controlled-atmosphere plants, thanks to water and air.
Water- based foaming
Through an exclusive production system, the polymer molecule of Aquacell expands thanks to the action of water and air, natural elements that are essential for life. Among other things, this gives it superior thermoregulatory properties compared to most polyurethanes.
Ecological, hypoallergenic and hygienic
Aquacell is environmentally friendly throughout its life cycle because it does not use substances that damage the ozone layer. It does not use CFCs and all harmuful products mentioned in the Montreal Protocol and in EC regulations 3093/94 and 2037/2000. It prevents the proliferation of mites and bacteria, because it is sterile and inhospitable. It is safe for health because it does not emit VOCs (volatile organic compounds) or formaldehyde ("Cosmob Qualitas Low Emission Mattresses" certified). Aquacell is non-deformable and long lasting, light, practical and requires little maintenance.
A smart fabric
SmarTherm
SMARTHERM is the "temperature controlled / intelligent" fabric (not just a simple "cold / passive temperature" fabric) with yarn enriched with millions of PCM Gel nano-capsules (with a nanotechnology process) that maintains body temperature within the ideal range (32°-37° C) throughout sleep, thereby guaranteeing healthy skin tone and freshness, better blood circulation and an effective cardiovascular prevention action, as well as a more efficient and effective sleep to ensure a higher level of general psychological and physical well-being for individuals in the short and long term. The SmarTherm fabric is 100% "natural" and hypoallergenic because pure silver ions (silver is present in nature) have been added to the side and it is doubly mite-proof (as it creates a hostile environmente to parasites and interrupts their food chain, thereby preventing in a natural and environmentally friendly way their survival and proliferation), antistatic (the average value of static electricity detected on the fabric is equal to ZERO) and odourless (silver binds to proteins to modify their acidity), and it is permanent because these features are not lost with washing and with the passing of time.
A breath of well-being
Dream Away
The exclusive and patented AirBellows of the Dream-Away system, that are added to the central / pelvis area of the layer, increase support for the heaviest part of the body, facilitate nocturnal movements avoiding micro-awakenings, and exploit movements during sleep to artificially activate a sensitive movement of the air inside the mattress that eliminates stagnating humidity and heat for a dry and correct microclimate throughout the night, with great benefit for people's health and the hygiene of the bed. The IHA Zurich institute carried out a comparative study on mattresses: Dream Away System was FIRST with the rating "EXCELLENT".
The human body emits 200/300 ml of moisture every night. The AirBellows of the Dream-Away system, which are inserted in the middle area of the central layer, activate a sensitive and continuous movement of air that is channelled outwards with even the slightest movement of the body during the hours of sleep. The excess moisture is expelled to avoid creating a damp sensation on the surface of the mattress, avoid stagnation and the formation of mould on the lower part of the mattress and to maintain the best hygienic conditions over time with considerable benefit for people's health.
New life, again
Seaqual
The hi-tech SEAQUAL fabric derives from plastics recovered is sea by fishermen. Its unique composition means it does not need to be washed to preserve its characteristics. Therefore, maintaining it in a good state does not require any consumption or use of energy. Moreover, it can also be recycled.
Plastic from the Mediterranean is selected to obtain PET chips.
Support from fishermen helps to clean rubbish from the oceans.
Plastic is turned into polyester yarn to make fabrics.
The polyester is mixed with other ecological, recycled fibres.
Ecological finishes are applied to save water and energy.
Being part of Seaqual means guiding humanity towards circularity.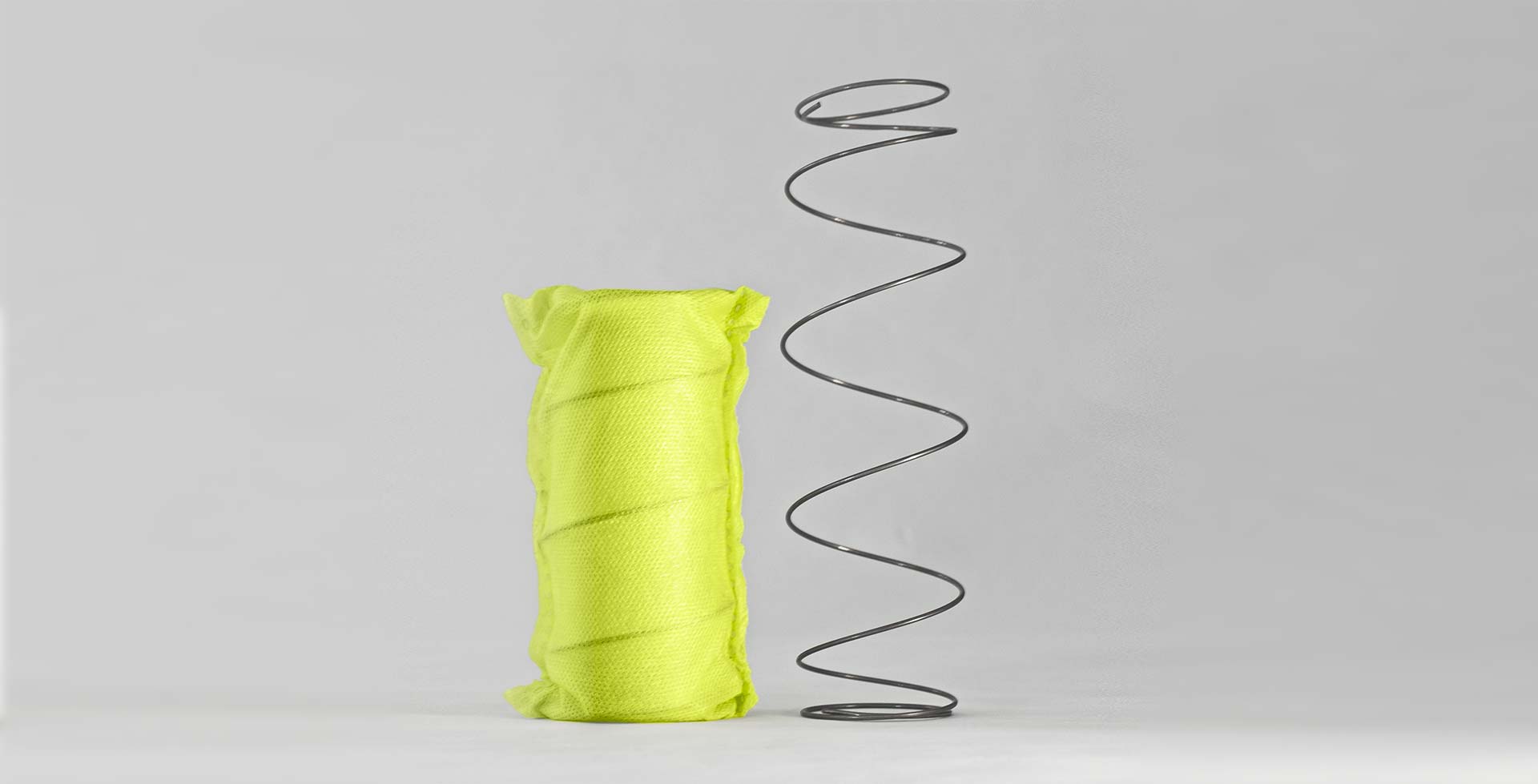 Spring system
ExE 1.2 Pocket
An active, progressive and perfectly balanced support.
ExE 1.2 Pocket is a structure which ensures an active, progressive, perfectly balanced and delicate support. The thrust is firm right from the very first phases of elastic deformation, but further compression does not produce an excessive force. This means it becomes easy to find an optimal resting position and you are less likely to feel the need to move during the night because of numbness in the muscles. The ExE 1.2 Pocket structure is completely recyclable.
A made-to-measure mattress: yours!
The mattress for you!
"Let us advise you" is our way to help you choose the Morfeus mattress that suits you best.
Touch, try, choose
Find a dealer
At our dealers you can try Morfeus products and find the ideal one for your needs.